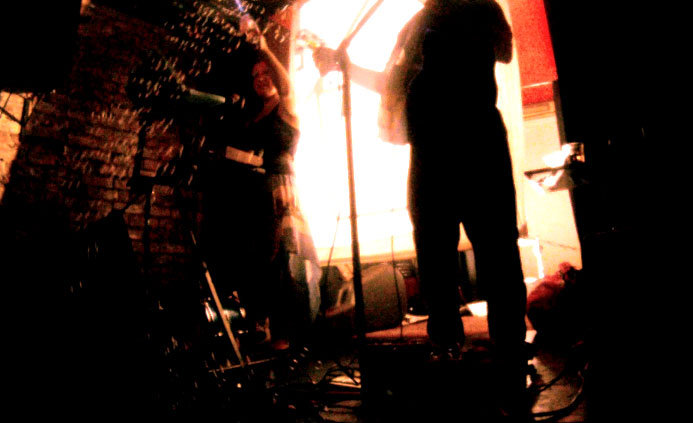 Set List:
Slow Boat to China
Dusty Bones
She Said
People
Southern Ontario
Tortoise
Raise Your Dead
Laura's Song
The summer gets away from you pretty damn quickly. We blinked and suddenly hadn't played a show since our CD release party in June. Thankfully, our good friends Tiny and The Mountain, Garbageface and Ryan Ringer asked us to play their tour kick-off party at the Central to get us off our asses.
Oh, and it was Taste of the Danforth in our neighbourhood this weekend, so any excuse to get out of the East End was a good one…we did, however, stop by the street festivities first to get a couple of awesome bubble guns from one of the vendors, complete with noises and flashing lights. Mine instantly started leaking all over my pedals and I managed to zap a friend right in the eyeball with the laser (you can sort of see Laura using hers in the photo above).
All told, we were rough and out of practice, but had a lot of fun and even had a singer or two in the front row during "Southern Ontario." It was also our first set using a Microkorg we picked up used last week, which I promptly used to completely derail "Laura's Song" by choosing inappropriately heavy bass patches.
…if you can't have fun and screw around then why the hell are you in a band?