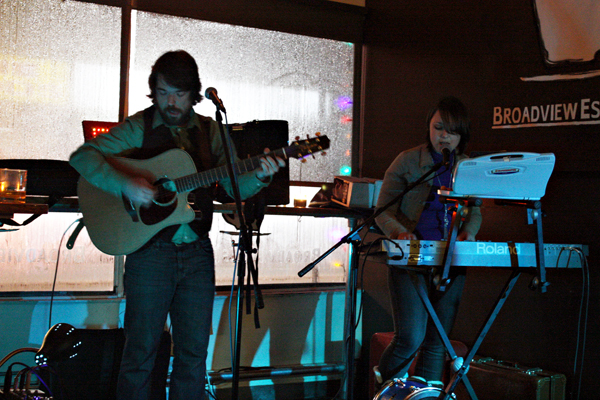 When:

Jan. 8, 2011

Where:

Broadview Espresso, Toronto ON

Who with:

Anna Atkinson
Set 1:
Hot Air Balloons (and Submarines)
Wish
Seacaptain
Happy Hallowe'en
Stan & Georgie
People
Set 2 (with Anna Atkinson):
Colours (Donovan cover)
Dusty Bones
Tortoise
Southern Ontario
Raise Your Dead
It Happens in Florida (Burning Hell cover)
A stark contrast to our set the night before in Kingston, this was the sort of show you could only get away with in an intimate setting amongst friends and fervent supporters.
The idea was simple: pare down the excess (re: no light rings or huge pedal board) and collaborate with our good friend and ultra-talented multi-instrumentalist Anna Atkinson. The result consisted of a quick set by each act before joining forces for what Anna called "the mega set." "Mega" in this case meaning unrehearsed and haphazard—something that in the wrong atmosphere would have crashed and burned, but in the dimmed lights of Broadview Espresso, amongst an attentive and interactive audience of familiar faces, was welcomed with an air of mischief and fun.
It wasn't fun and games at first though, as our trusty Korg Polysix seemed to have a mind of its own, bending notes all over the place (turns out it was just cold from having spent the night in the trunk). Thankfully, one of the many perks of living across the street from the venue was being able to run back and grab our Roland Juno 106 as a stand in*. Also, just like the previous show, we didn't write a set list and forgot to play "Young Enough," a song we had actually rehearsed with Anna prior (look for a new version of that tune at some point).
Thankfully, the slap-dash set seemed to still go over well (our new Twitter friend Matt, who also helped us name "Little Dragon Slayer," tweeted: it was probably one of the coolest musical experience I've had. follow him–he's clearly a smart dude).
Speaking of Twitter…one of our favourite online personalities, Louise Andre, took some great photos:
*Laura doesn't like the Juno 106.