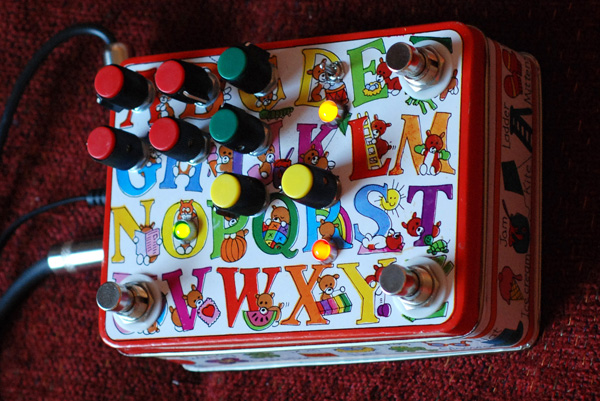 Laura (re: half the band) was away for the last two weeks of January working on her tan. Of course, we all know that when the cat's away the mouse will…uh…build a ridiculous guitar pedal.
In this case, I had a few quirky circuit boards kicking around and decided to cram as much as I could into a single alphabet-themed cookie tin. All in all, I'm not sure how useful this will be on stage, as it's pretty unwieldy, but it's also a hell of a lot of fun.
The breakdown is as follows: the first switch (and 2 yellow knobs) operate an auto wah—the Dr. Quack circuit (a better version of the EHX Dr. Q). The second switch (and 4 red knobs) controls a crazy fuzz/echo circuit based on the "Noise Ensemble" (I added a few extra knobs). Finally, the third switch (and 2 green knobs) works the modified "Little Angle" chorus (I'm still tweaking this one to taste*).
All told, it's a crazy mess of sonic destruction that is both versatile and absolutely insane. For a sound sample of me going through some of the various possibilities click the little red play button below:
UPDATE: after band practice last night I tweaked this monster even further, adding a toggle switch in place of one of the red knobs so that I could make room for a knob to control just how crazy the chorus can get—the answer: real crazy.