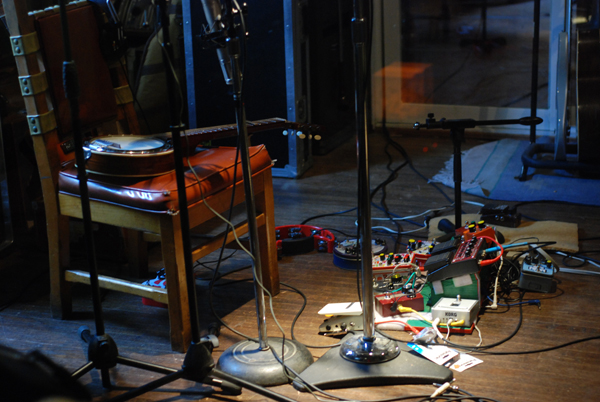 Quick update: we're back from recording at the House of Miracles!
We made the snowy drive late Saturday night for a few days of recording with Andy Magoffin. Our car was so crammed full of gear I thought it might burst, but we still managed to fit Anna Atkinson between guitars in our backseat.
Suffice to say, we had a great time in the studio and we're incredibly happy with the way the album is coming together. Here are some quick teases and tidbits for what you can expect:
– 8 of the 10 songs were predominantly recorded live off the floor.
– In contrast to …Makes Ghost Noises, acoustic guitar is the main instrument on only one track so far (in fact, that's the only song it appears on at all at the moment).
– Our 6-string banjo is the lead instrument on 2 tracks (one of which being "Laura's Song" ).
– Anna Atkinson is the 5th Beatle. She contributes viola, accordion and backup vocals (not to mention that she and Laura sound amazing together).
– The word "raunchy" was thrown around a lot in describing the guitar sound.
– I sound like I've never said the word "fuck" in my life.
– Laura's biggest screw up might be the albums best moment.
Stay tuned for more important updates concerning the release of Tortoise (a word Andy had a lot of fun saying, by the way) as well as a tour to support it! In the meantime, here are photos from the session (we brought a video camera too, but I forgot to pack any tapes…).